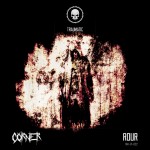 Our twenty second digital release will be available Novemer 30th.
Second EP by Corner, this time featuring four Industrial/Darkcore tracks.
With several distinct influences, he delivers an unforgiving result.
Picking up where his debut EP left the listener with anticipation half a year earlier, Russian producer Corner tackles the challenge of even surpassing that quality level. Expect more distortion, more speed, more unforgiving devastation.
An extended, monochrome halfstep intro leads into the opener "Nothing", before beats like falling rocks threaten to bury you alive; the title track then ventures into kicking 130 bpm doomcore with almost "real" sounding drums. "Valkyrie Effect" is simply a malicious industrial banger, and "Unknown Places" takes ist due time for a hypnotic buildup along a melody that's as far from generic genre pettiness as it gets, somehow reminding of a post punk mood.
"Rour" promises some proper havoc, if you'll have it!
Check it out at https://soundcloud.com/traumatic-hardcore/sets/trm-ep-022
Available in any digital format at https://traumatic.bandcamp.com/album/corner-rour